Jimmy Kimmel's 'Friends' Reunion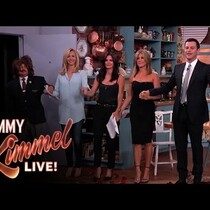 Jennifer Aniston has been on a press tour for her latest movie & she stopped by Jimmy Kimmel's show to talk about it. From the looks of things, Courtney Cox & Lisa Kudrow aren't too busy, so they stopped by to help out with this near-reunion of the 'Friends' cast!
Find out what happened to Chandler & Joey when you watch Jimmy's scene he wrote for the Friends show.